Reading Time:
4
minutes
"The Irish can't forget their history because the English refuse to remember it," says Luke Dodd, quoting renowned academic Terry Eagleton. If that's true, it's something Dodd hopes to change with an exhibition at The Photographers' Gallery devoted to Ireland's rebellion against British rule.
The Easter Rising 1916: Sean Sexton Collection
depicts the growth of Irish nationalism, the uprising of 1916, the subsequent emergence of the Irish Free State, and how it all played out in images.
Dodd, who has just edited a book of Jane Brown's photojournalism, has drawn the images from a private collection of more than 20,000 prints put together by Sexton over the last 50 years. Including press and military photographs, amateur shots and postcards, Sexton's archive is outstanding, says Dodd, because it's so comprehensive, but at the same time so personal. "He's a slightly eccentric character and has searched everywhere – he's been to every car boot sale, and voraciously collected anything Irish," he says. "That means there's a lot of obscure stuff, but that's also its great strength.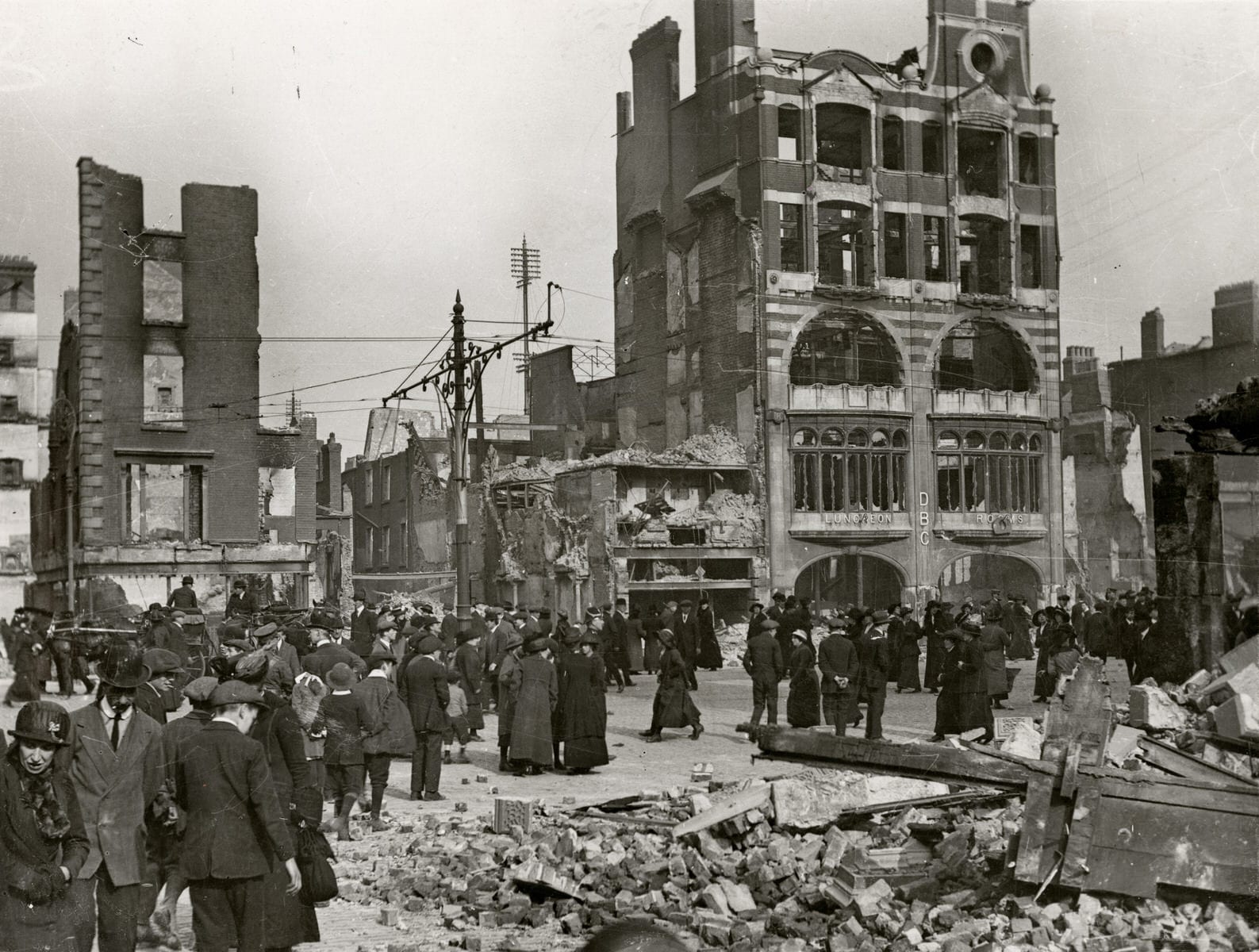 "There aren't that many photographs of the rebellion, for a number of reasons – the British arrived and imposed huge censorship, and also photographic practice was still very cumbersome [and not easily suited to shooting urban warfare] – so usually you see lots of pictures taken after
the rebellion was quelled, lots of shelled-out buildings, and so on. But Sexton has amateur shots taken during the uprising, showing barricades and British army officers, and he also has
amazing ephemera such as stereoscopic views
and postcards. They give an insight into how the rebellion was perceived, because initially it had little popular support; but then, because the British response was so draconian [the leaders were executed and martial law imposed], it switched."
Dodd has picked out just 80 images from this enormous collection, aiming to relate the history of Ireland and its photography, but also to "have more fun, because the photographs in the collection are quite random". So, alongside images showing the shelled-out streets and the rebels and troops, he's included playful artefacts such as two photographs of the rebel leader Constance Markievicz, one showing her dressed as a debutante and the second in full army gear in a portrait studio. "The National Library of Ireland has a similar shot, but this one is much rarer," Dodd comments.
He has also paired images of a brother and a sister – John French, Lord Lieutenant of Ireland, and Charlotte Despard, a Sinn Fein activist. "You have a shot of French, who was sent there in 1918 to reinstate order, inspecting the troops at Phoenix Park, but then another of his sister demonstrating outside a prison in support of a hunger strike," says Dodd. "They were raised together, and yet she became a committed revolutionary whereas he was there as part of the British administration."
Dodd is also including five 200-word text panels in the show, which he says are necessary because "most people [in Britain] are not aware of the rebellion, or not the nuts and bolts of it". This is despite the fact that, as the first uprising against colonial rule, it represents the beginning of the end of the British Empire. Redressing this historical amnesia is one reason he was keen
to show the exhibition in the UK, but he adds that while there will be "heaps of other stuff " commemorating the rebellion's centenary in Ireland, this particular show might prove more tricky if exhibited there.
"In Ireland it's politically awkward because, effectively, this is the birth of Sinn Fein," he says. "Relations are so much better in Ireland, and the situation [between Nationalists and Unionists] in the North has settled down; they are scared of raking it up. It's not benign yet."