Reading Time:
4
minutes
Christina Broom was Britain's first female press photographer, breaking out of the photographic studios that women in the profession were confined to. Supporting herself professionally by selling her images as picture postcards (growing rapidly in popularity at the time), she also documented London views and noteworthy events. Her images, taking in parades of First World War soldiers, Suffragette processions, royal occasions and sporting events provide a unique snapshot of life in early-20th Century London.
One hundred years later, a new exhibition of her works at the Museum of London Docklands reveals the story of the self-taught novice who turned photography into a business venture to support her family. We spoke to Anna Sparham, Curator of Photographs at the Museum of London about Broom's pioneering career.
How did a civilian woman obtain the role of photographer to the Household Division of the British Army?
Her role was instigated by an event in 1904 when Broom and her daughter were out photographing the streets and stumbled across a Scots Guards sports event taking place in Burton Court, Chelsea. The women were invited in to watch and try out their camera. Broom, with her daughter's assistance, then sent prints to Chelsea Barracks, almost as way of apology for their intrusion. The very next day Broom was invited to the Barracks to photograph Guards Mounting.
Broom began to visit the Barracks several times a week, being given such remarkably open access. This was partially due to the Army wanting to modernise and change at this time and clearly also down to Broom's photographic capabilities, service and personality. Broom would document life in the barracks, group and solo portraits of soldiers and ceremonial occasions. She sold them picture postcards, together with envelopes, to be sent home to family and friends.
Capturing the experience of war on the home front, do you think she brought a different perspective as a woman?
By the time of War, Broom had been photographing the Army for 10 years, and was incredibly familiar with army life. The men and their families knew Mrs Broom well and this is clearly reflected in her photographs. In much of her photography at this time there is a more intimate, informal approach from Broom, and her portraits convey that these men are responding to someone they warm to and are fond of, rather than strike a formal, official and detached pose.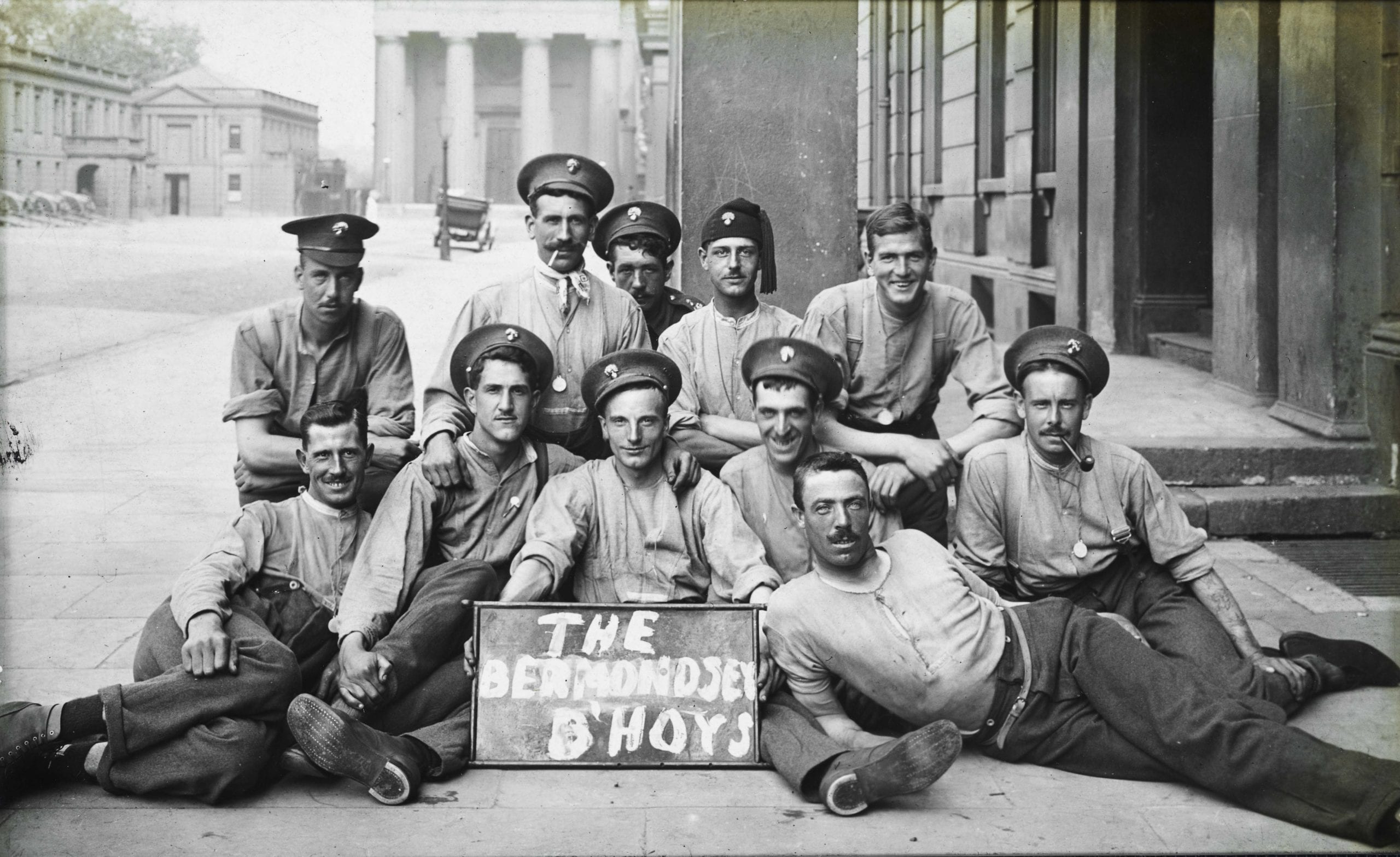 Some of her most poignant images, of men leaving London's stations for the front, are so poignant not just retrospectively, but because they almost appear to have been taken by another member of the family. They are not propaganda images made for the newspapers. They are made for the individuals. She was a people-focused photographer, in tune with human emotion, characterised through her individual portraits and group shot camaraderie.
Perhaps a male photographer wouldn't have acted in the same way at that time, instead opting for a focus on the military action at hand. Perhaps her stance, as a mother, played a part in these moments too. Her strong personality went a long way in securing her position as both a civilian and a woman in the army. Whilst I don't think her gender distinguishes her photography of the army throughout, there are elements of it that more strongly suggest a female eye.
Tell us a little about the camera technology at the time.
Broom had opted for a half-plate camera, which required a tripod. This was either a Thornton Pickard or a Sanderson. The lens would have had stops of around F5.6 or F.8 to F.64 and shutter speeds around a 15th to 1 second. Perhaps she felt more professional when starting out by using this equipment rather than opting for something lighter and less cumbersome.
Press photographers did indeed use glass plates for best quality at that time, although not necessarily half-plate. Broom, as with many photographers, did not in fact move with the technology and adapt quicker, easier methods. She stuck with her format throughout. But then, although she sought topical, newsworthy images, she also preferred a more static, still and considered style of photography.
Soldiers and Suffragettes: The Photography of Christina Broom is on show at the Museum of London Docklands until 1 November 2015. Find more details here.